Black Bean Chocolate Cake
Fiona H.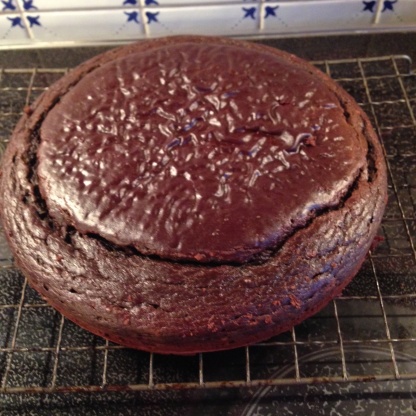 Healthy yet deviously delicious. I got this off of the Soma Studio website. No one believes me when I say it's flourless. I usually make it with a decadent chocolate icing, but I've made it with chocolate avocado icing and it was still scrumptious.
Top Review by Oishi
I made one almost the same today and was great, instead of posting going to review what I did. Baked at 350, used a 14 oz can of beans as couldn't find 15 oz. (for the 3 eggs i mixed them separately and poured out a little) used 6tbs of butter and a little less than 3/4 cup of sugar. steps, mix cocoa, baking p and soda in small bowl. In larger bowl, beat the butter or coconut oil until light and fluffy, add 2 eggs one at a time. (beat well after each egg). in a blender add the beans, 3 pre mixed eggs (a little poured out as less beans), vanilla, sugar and salt. mix until smooth. Add to butter mix to combine. Stir in the remaining dry ingredients and 1tbs h20 and beat on high for 1 minute. bake for 30-35 mins (might need longer) made with kittencals chocolate frosting (89207)and decorated with raspberries
Preheat oven to 325 degrees Fahrenheit.
Grease 9" cake pan and dust with cocoa powder, tapping to evenly distribute.
Drain and rinse beans. Shake off excess water.
I use handheld mixer to pulverize beans smooth.
Add in 3 of the eggs, vanilla, salt and continue mixing. When smooth, add in coconut oil and honey. Add in last 2 eggs.
In separate bowl, sift in cocoa powder, baking soda and baking powder and then add to the wet ingredients
Beat on high until you achieve a nice smooth consistency. Approx 1 minute.
Scrape batter into pan and rap on counter a few times to free any bubbles.
Bake for 40-45 minutes. Cake is done when top is rounded, firm to touch and toothpick comes out clean.
LET CAKE SIT OVERNIGHT IF POSSIBLE or at least 8 hours. It's not a ready-eat-right-away type of cake.
Frost with favorite frosting and enjoy.