Black Bean Chocolate Cake
Fiona H.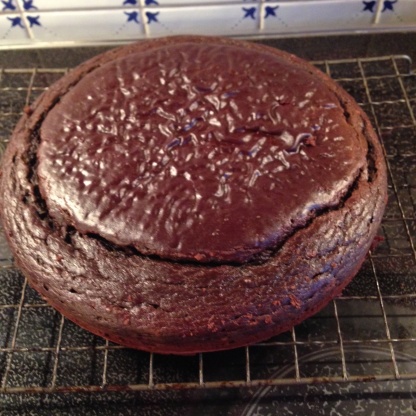 Healthy yet deviously delicious. I got this off of the Soma Studio website. No one believes me when I say it's flourless. I usually make it with a decadent chocolate icing, but I've made it with chocolate avocado icing and it was still scrumptious.

I was having awful chocolate cravings that I needed to satisfy but wanted to stay relatively healthy while doing so. This is my favorite black bean chocolate cake recipe I've found on the internet so far. The only thing I did differently was add 2 Stevia packets. So delicious! You would be amazed that this is not actually your typical chocolate cake. I had some friends over shortly after I made it and didn't tell them after that it was made from black beans, until after they told me the cake was really good! Now just on the search for a healthy/low calorie frosting to go along with it.
Preheat oven to 325 degrees Fahrenheit.
Grease 9" cake pan and dust with cocoa powder, tapping to evenly distribute.
Drain and rinse beans. Shake off excess water.
I use handheld mixer to pulverize beans smooth.
Add in 3 of the eggs, vanilla, salt and continue mixing. When smooth, add in coconut oil and honey. Add in last 2 eggs.
In separate bowl, sift in cocoa powder, baking soda and baking powder and then add to the wet ingredients
Beat on high until you achieve a nice smooth consistency. Approx 1 minute.
Scrape batter into pan and rap on counter a few times to free any bubbles.
Bake for 40-45 minutes. Cake is done when top is rounded, firm to touch and toothpick comes out clean.
LET CAKE SIT OVERNIGHT IF POSSIBLE or at least 8 hours. It's not a ready-eat-right-away type of cake.
Frost with favorite frosting and enjoy.