brkozlow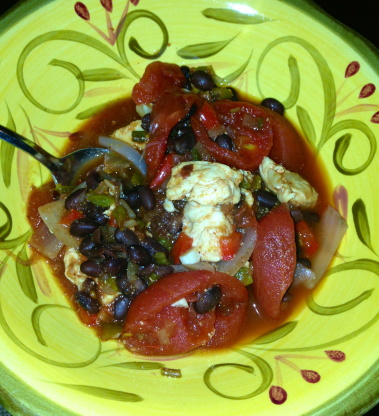 I'm addicted to black beans so was anxious to try this recipe that I found in a Junior League cookbook. We loved it, it's an instant family favorite!

Easy and adaptable to what you have on hand. If you have leftover chicken, just chop that and add right before the beans and tomatoes. I skipped the chicken broth, added some green chilies from a can, and some extra beans. Easy to freeze individual portions for lunches later.
Simmer the chicken, onion, green pepper and garlic in the 2 tablespoons of broth in a stockpot until the chicken is cooked through, about 10-15 minutes.
Add the tomatoes, black beans, salt, hot sauce, salsa, chili powder and cumin; mix well and simmer 30-45 minutes.
Serve with shredded cheese, if desired.