Black Bean Butternut Squash Chili
I took a vegetarian cooking class and got this great recipe.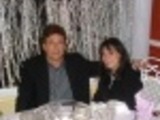 I had no idea what to expect from this recipe so I was pleasantly surprised at how tasty it is. I made this exactly as posted, even though I'm not a big cumin fan. It was perfect! I will definitely be making this again in the cooler months. Made for Spring PAC 2014.
Heat oil in large saucepan; add onion celery and red pepper. Cook over medium heat stirring occasionally until vegetables are soft.
Add squashes, beans, tomatoes, garlic, seasonings and water. Bring to a boil reduce heat and cook uncovered for 30-45 minutes stirring occasionally.