flower7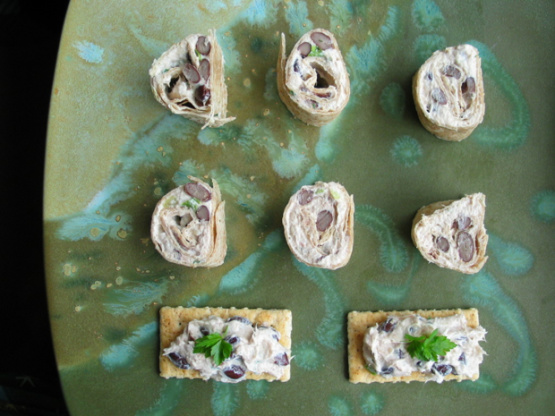 An unusual combination of ingredients comes together to make a delicious dip or cracker spread. Quick and easy to prepare, it can be made a day in advance or served immediately. Created for the Fall 2010 Dining on a Dollar Contest.

I made this exactly to the recipe (except for subbing parsley for cilantro) and enjoyed it quite a bit. The beans were certainly an unusual addition, but as beans (particularly black beans) are a favorite of mine, I liked the addition. I just realized I forgot to toast the sesame seeds - whoops! Well regardless, I'm looking forward to enjoying this on crackers *and* rolled into tortillas. (Having tried it both ways for the photo, I think I like the additional crunch from the crackers more though). Thanks for sharing your recipe creation Tink! :)
Combine first 8 ingredients in a small bowl and set aside.
In medium bowl, beat cream cheese then add tuna and mayonnaise, stir well.
Add black bean mixture to cream cheese mixture and combine.
Serve with whole wheat or saltine crackers.
Can also be spread onto flour tortillas, rolled into spirals and sliced for appetizer sandwiches.