Black Bean and Sweet Potato Soup
Parsley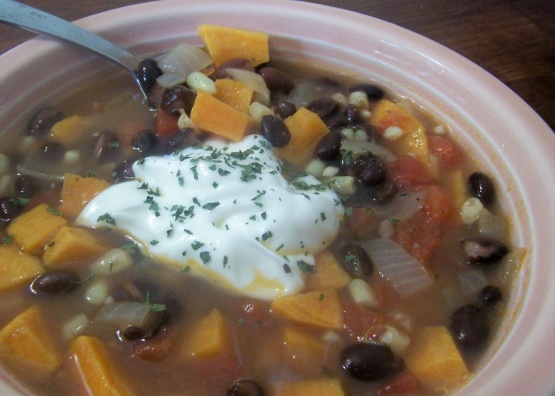 I love black beans and sweet potatoes... this is a wonderful blend of flavors. I like to cook this in the crockpot but it can also easily be done on the stovetop.

Fabulous soup! I don't understand why others thought it was boring because we thought the flavors were wonderful! But to each their own, right? I low-boil simmered it on the stovetop (med heat for my stove) for 30 minutes and it was perfectly done. I also toasted the spices with the onions and garlic in the last minute or so of sauteeing. It didn't even need the sour cream, but that added a nice rich dimension (I didn't add any but DH did and I tried his). Even the baby loved it - and there is definitely a nice layering of spice. A+ thanks, Lysa! We will be making this often!!
Heat oil in a skillet and saute onion and garlic in oil until soft.
Add all ingredients to crockpot and cook on LOW for 8 hours or until sweet potatoes are tender.
Serve hot with sour cream and lime if desired.