Black Bean and Sweet Potato Burritos (Slow Cooker)
Hadice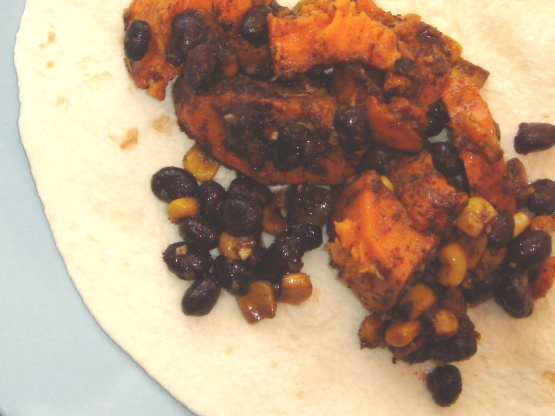 From "Best Recipes All New Slow Cooker", this flavorful and economical recipe is very quick to throw in the crock pot. It is great wrapped in tortillas or served on top of rice (My kids enjoy it both ways!). I double the recipe but not the spices. Note: 11/8/06 I added about 3 tbs. (plus the juice) of crushed pineapple and it was a very good variation!

This is an update on my previous review. I had previously tried the recipe, but ended up changing it so much that I could not give any stars. What I ended up with was very tasty, so this was on my 'to try again' list. This time I did follow the recipe, for the most part, and it was delicious! My crock is very large, so I pretty much doubled the recipe to keep it from burning. I didn't have a jalapeno pepper but I added some really hot salsa. I love the combination of the sweet from the sweet potatoes with the spicy and the heat from the salsa. Yum! I served this on whole wheat sprouted tortillas with ff sour cream and hot sauce. Thanks for posting, I'm so glad I went back to try the recipe again. This is aa keeper!
Combine Chili powder, oregano, and cumin in small bowl and set aside.
Layer sweet potato, beans, half of chili powder mix, garlic, onion, jalapeno pepper, green pepper, remaining half of chili powder mix and corn in slow cooker. (Note: I cook the onions, garlic, and sometimes add some green salsa, before I put them in the crock pot. Also, Sometimes I just throw in some taco seasoning.).
Cover and cook on LOW 5 hours ore until sweet potato is tender. (Note: with my crock pot it takes about 3-4 on low).
Stir in lime juice and cilantro.
Spoon 2 TBS cheese in tortilla and top with 1 cup filling.
Fold tortilla to close.
Microwave until cheese melts.