Black Bean and Red Pepper Salsa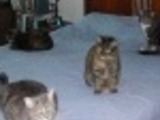 Posted for Zaar World Tour 2005. No tomatoes in here, but full of traditional salsa taste. Can be served as a side dish or salsa dip with pita toasts. From The Jewish Vegetarian Year Cookbook. I have not tried this recipe yet.
Directions
Heath olive oil in a 10" skillet over moderate heat. Add peppers and onion and saute until vegetables start to soften, about 3-4 minutes.
Add garlic and saute 1 minute.
Add wine and oregano and cook 3-4 more minutes, until vegetables are tender, but still have bite.
Remove from heat, allow to cool slightly, then stir in beans, tabasco, lime juice and cilantro. Add salt and pepper, to taste. Add garnishes, if desired.
Reviews
Most Helpful
WHipped this up to have for lunch. Never thought of adding wine to salsa before, it was good! I used roasted red pepper strips instead of reg bells, just wanted to see. The beans, peppers, avocado, and wine all taste so good! Thanks for a new idea!

This was sort of a cross between a salsa (in flavor) and a dip (in texture). Whatever you call it, it was delicious. I was a little leary about the wine as it is such an unusual ingredient, but after the salsa sat up for about and hour it blended in quite beautifully. This would be a great addition to a party as the color contrast between the peppers, beans and salsa were great, I ate mine as a midafternoon sack with cumin scented pita chips and celery. Thanks Kumquat!