Black Bean and Corn Salsa
Prep 10 mins
Cook 10 mins
This is very good served with grilled meat.
Directions
Cut corn kernels from the cob with a sharp knife.
Stir together kernels and remaining ingredients except salt in a mixing bowl.
Taste and add salt, as needed.
Cover and refrigerate until ready to serve.
Most Helpful
My 15 year old daughter is a vegetarian and loved this easy to make recipe. It is very refreshing. Thanks for the recipe.

This is really good! I left out the bell pepper and onion because I don't like them. But kept everything else true to the recipe. The flavor is very good! It's hard not to eat all of it at once.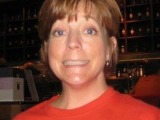 I really enjoyed this! I used a can of corn and a can of black beans, then just eyeballed the rest of the ingredients. The cilantro makes the dish, in my opinion.