Black Bean and Corn Salad - Ww Core
Labrylla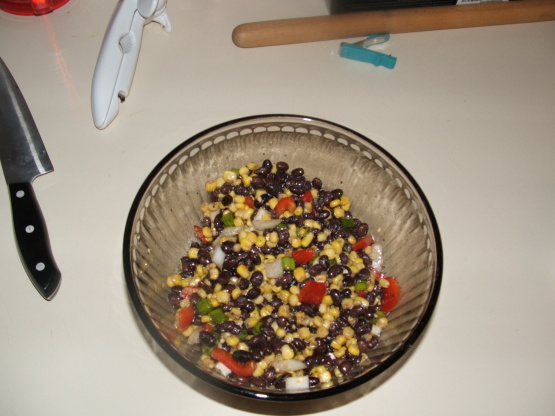 Sent to me from allrecipes.com This is great!

very yummy!! i didnt have balsamic vinaigrette so i mixed 1/4 balsamic vinegar, a splash of olive oil, the juice of one lime, some cumin, chili powder and minced garlic & served with some bbq'd cajun flavored chicken breast. i chopped the leftover chicken (chicken breasts are so big these days!!) and tossed it with this leftover salad and had for lunch at work the next day after i heated it up in the microwave...2 great meals and its wonderful hot or cold!
In a small bowl, mix together vinaigrette, seasoned pepper, cilantro, cayenne pepper, and cumin. Set dressing aside.
In a large bowl, stir together beans, corn, onion, green onions, and red bell pepper. Toss with dressing. Cover, and refrigerate overnight. Toss again before serving.