Black Bean and Avocado Soup
Parsley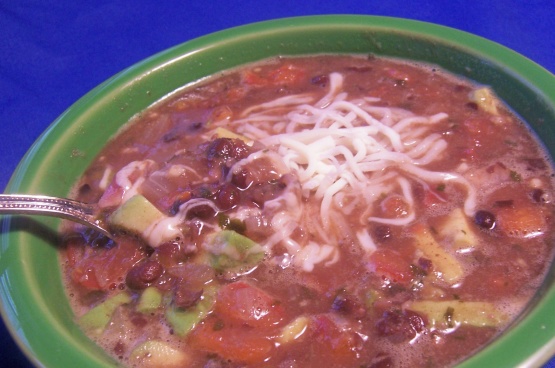 This was wonderful! We loved it! The only thing I did differently was add shredded chicken in the soup for additional protein per my hubby's request. I don't eat cheese so I ate it with a spoonful of full fat plain greek yogurt and it was delightful! Avocados are a super food and are eaten often in our home, we eat at least 2 a day, so I'm always looking for recipes that can incorporate avocados somehow. This one is a keeper! Thank you for sharing!
In a large soup pot, saute onion and garlic in olive oil about 5 to 7 minutes, or until soft.
Add cumin, cayenne powder, cinnamon, salt, sugar and cilanto; sauté an additional 2 to 3 minutes until very fragrant, stirring often.
Add tomatoes and beans; cook an additional 2 to 3 minutes.
Add broth to the pot and bring to a boil; simmer gently for 10 to 15 minutes.
Puree 1 cup of this mixture and return back to pot.
Stir in avocado, and lime juice. Heat through.
Place in serving bowls and sprinkle with shredded cheese.