Black and Red Mexican Slow Cooker Soup
PaulaG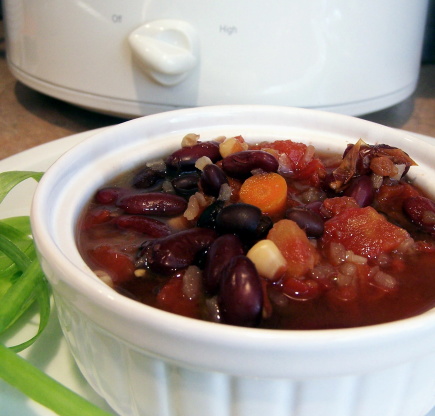 This is a staple in our house. Serve it with tortillas, quesadillas, or tortilla chips and it's dinner! I usually assemble it the night before, stash it in the fridge and plug it in before I leave for work. My husband spices it up with hot sauce, but for my daughter and I, it's good as is. It's another recipe someone shared at a school potluck lunch :) Oh, and I'm totally guessing on the servings...

We loved this soup! It was so easy and tasty without any effort. I didn't realize I was low on carrots so I used sweet potato instead and used a 24oz can of diced tomatoes and a 14.5oz can of roasted tomatoes with green chills. I also omitted the sugar and added a red bell pepper. I was very impressed with the outcome of this soup. Thank you for posting!
Combine everything in the pot, and cook on Low for about 8-9 hours.
Garnish with grated cheese, sour cream, cilantro, etc.
Freezes great.
Crumbled sauteed chorizo is yummy in this.