Bkwitch's Chicken Durango-Tango
Annacia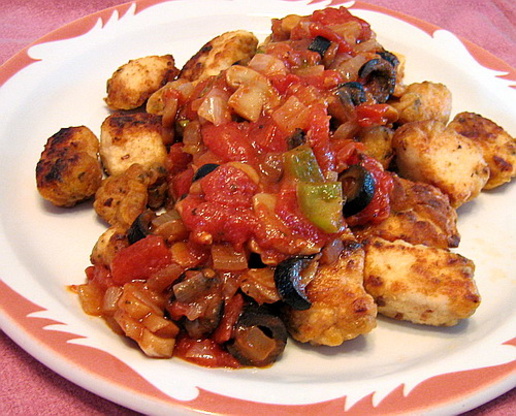 Another one of my "twisted" recipes. That is to say, my twist on chicken durango. Serves up well with Spanish rice and a green salad.

This is so good! I cubed the chicken (DH prefers it that way) and as it's 3 or 4 days before my monthly shopping I had to use things that were in the pantry stores. Canned mushrooms instead of fresh, some canned tomato's in place of tomato paste and black olives in place of the green. Having said that this is very quickly made and yet doesn't taste like a "need something fast" meal. The flavors come together beautifully and made a very pleasing and satisfying meal.
Season chicken breasts with salt, pepper, and onion and garlic powders.
Place 1/4 cup all-purpose flour into a shallow dish.
Heat 2 tbs olive oil in a large skillet.
Dredge the seasoned chicken breasts in flour.
Add chicken to skillet, cook about 8 minutes per side, until juices run clear when pierced with a fork.
Remove chicken, wrap in foil and keep warm.
Heat oil from sauce ingredients list in same skillet.
Add bell peppers, onions, and mushrooms; sauté until tender,about5-6 minutes.
Stir in flour and spices listed in Sauce ingredients.
Cook, stirring, about 1 minute. Add tomato paste and stir to "brown" tomato sauce about 2-3 minutes.
Add broth and orange zest to skillet.
Simmer until sauce is slightly thickened, about 5 minutes.