Bizcocho Dominicano (Dominican Cake)
leli584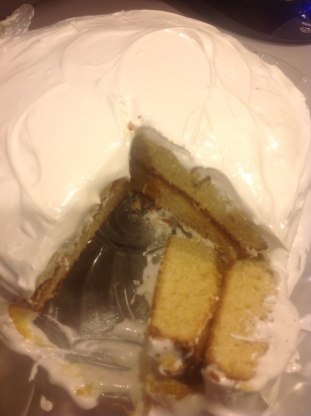 Tropical pound cake with pineapple. Posted for ZWT, untried by me. Adapted from the May/June 09 Hannaford fresh magazine. NOTE: don't preheat the oven -- this cake is supposed to go into a cold oven! Cook time includes cooling times for both cake and filling.

I am Dominican and consider myself somewhat of a Dominican cake "expert" (at least in taste testing!). I made this recipe today and have the following comments/changes:

Filling- was way too sweet, would be better with half the sugar and crushed pineapple would be a better option. Did not add the filling to the uncooked batter, waited until cakes cooled and then added in between the two layers. The taste was very authentic!

Cake- used 1.5 cups of sugar, heaping teaspoon of orange and lime zest (half lime / half orange), 1 stick of margarine (I can't believe it's not butter brand), no heavy cream ( I have never heard of this ingredient in a Dominican cake), divided the batter into two 9 inch round pans, should be cooked for 20 to 30 minutes. This is all time consuming and not an easy quick task. I cooked the cakes for 45 minutes and it got super overdone. I would attempt this recipe again but not anytime soon.
FILLING:.
Combine all the filling ingredients in a medium saucepan over high heat. Bring to a boil, then reduce heat to medium-low. Continue cooking, stirring frequently, until pineapple is tender and mixture becomes thick and jammy (this will take about 1 hour). Drain off any excess liquid and set mixture aside to cool to room temperature This part can be done up to 3 days ahead, just store filling in fridge until ready to use.
CAKE:.
Spray a 9 or 10" Bundt pan with Baker's Joy (or any cooking spray with flour in it).
Cream butter and sugar in a large mixing bowl with an electric mixer for about 5 minutes, or until the mixture is pale and fluffy. Add the room temp eggs one at a time, mixing well after each addition. Beat in vanilla, orange juice and orange zest.
Reduce mixer speed to low. Add the salt and half the flour and mix well. Scrape the sides of the bowl, add the cream, and mix well again. Add the rest of the flour and mix well. Beat this mixture for 5 minutes on medium-high speed.
Spread 2/3 of the cake batter evenly in the prepared pan. Spoon the cooled pineapple filling on top of the batter, making sure that no fruit touches either the outer or inner edges of the pan (you want the filling to be totally enclosed within the cake and not visible from the outside once the cake is baked). Spread the remaining cake batter over the fruit layer, taking care not to disturb the ring of filling as much as possible.
Place pan on the middle rack of a cold oven, then turn oven on to 350 deg. F. Bake for about 1 hour, or until cake is golden brown and a tester comes out with only a few dry crumbs.
Cool cake in the pan for about 30 minutes. Gently loosen cake from sides of pan with a thin knife, then invert it onto a wire rack to cool. If any of the filling has sunk and fallen out of the top of the cake, arrange this over the top of the cake.
Allow cake to cool completely (approx. 2 hours). Dust with powdered sugar immediately before serving. Slice and serve with the chopped pineapple or pineapple rings, if desired.
Note about eggs: if you don't have time to wait for the eggs to come to room temp on their own, place them in a medium bowl and cover with very warm water. Allow them to sit in the water for about 5 to 10 minutes before using.