Nimz1466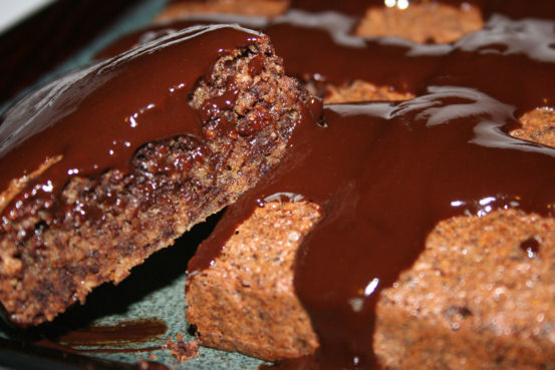 This is the Mexican version of the flourless chocolate cake. The under-lying note of cinnamon and orange pairs perfectly with the sweet unctuousness of the chocolate glaze. Cooking time includes cooling the cake, but not bringing your eggs to room temperature.

This was very different from anything I have tried to make. I made as directed except used semi-sweet chocolate instead of the bittersweet because that is what I had. The texture was very surprising. It was kinda grainy, which suggest to me that I didn't process the mixture well enough. But it was powder when I finished. I will add that I am not very experienced in baking cakes or pies, so any problem I have with this cake is more than likely due to a technician error, and not the fault of the recipe. I would have liked a slightly sweeter version of this, especially for a chocolate cake. All in all not a bad cake, but if I'm going to eat chocolate cake, I prefer it sweet, since I don't do the sweet thing very often. Thanks for sharing.
Preheat the oven to 325 degrees F.
Line an 8" square baking pan with parchment.
Finely grind the almonds, 6 ounces of the chocolate (reserve the rest of the chocolate for the glaze), the orange zest and 2 teaspoons of the cinnamon in the food processor.
In a large bowl, whisk the egg yolks with 3 tablespoons of the sugar until pale yellow and thick.
Fold in the nut mixture; the batter will be very thick.
In another large bowl, beat the egg whites and the salt until frothy.
Gradually add the remaining 3 tablespoons of sugar, continuing to beat until peaks form.
Fold half the beaten egg whites into the almond mixture to lighten it, then gently fold in the other half.
Pour the batter into the prepared pan and smooth the top with a spatula.
Bake for 40 minutes, or until a toothpick inserted in the center comes out clean.
Let the cake cool in the pan for 10 minutes, turn out onto a rack , peel off the parchment paper, and cool completely.
To make the glaze, heat the cream and butter over medium low heat until steam rises from the surface.
Remove from the heat, and stir in the remaining three ounces of chocolate and 1/4 teaspoon of cinnamon, until the chocolate is fully melted and incorporated.
Cool for 15 minutes, or until the glaze is lukewarm.
Pour over the cake, letting it drip down the sides.