LAURIE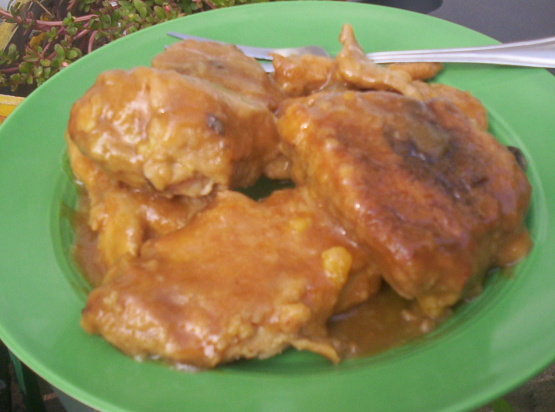 To keep the natural juices sealed inside the skin, always use tongs when turning chicken, to prevent piercing.

Hi BK, I made this chicken tonight for dinner and it waas thoroughly enjoyed by all I had orange liqueur left over from the holidays that needed to be used up, the only change I might make next time is to reduce the orange liqueur slightly, I will be making this again soon, we loved it, thank for sharing hon!...Kitten:)
Preheat oven to 350 degree In plastic bag combine flour, salt and pepper.
Add chicken, coat completely with flour.
Melt 4 tbsp butter of butter.
Roll chicken in butter, making sure to coat all sides.
Place chicken skin side down in pan.
Bake for 30 minutes.
In saucepan melt remaining 4 tbsp butter.
Stir in lemon juice, liqueur, honey, orange zest and soya sauce.
Turnover chicken pieces.
Pour honey mixture over chicken.
Continue baking an additional 30 minutes or until chicken is glazed and tender.