Bittersweet Beachside Brownies
twissis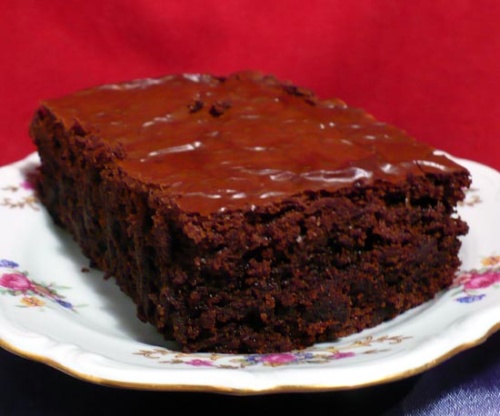 Take these to a picnic and watch them go!

These brownies are too good to take to a picnic! My sweet-tooth DH would never allow it! I made a half recipe using a makeshift dbl boiler to melt the butter/choc mix & otherwise made as written. They cut like a brownie, look like an extra-rich choc cake & taste like moist & chewy choc heaven! Frosting, powd sugar or whipped cream would be definite overkill, but I'm thinking frozen yoghurt would be TDF. Thx for sharing this spec sweet treat w/us. :-)
Preheat the oven to 350°F.
In a medium saucepan over medium-low heat, melt the chocolate with the 1 cup butter, stirring occasionally; set aside.
In a large bowl, whisk together the eggs and both sugars.
Stir in the melted chocolate and butter.
Stir in the vanilla.
In a separate bowl, combine the flour, baking soda, and cinnamon.
Stir the flour mixture into the chocolate mixture until well combined.
Grease a 13 by 9-inch pan with nonstick cooking spray or the 1-2 tablespoons of butter.
Pour the batter into the pan and bake for 30 to 40 minutes, until a toothpick comes out clean.
Let the brownies cool to room temperature before cutting into 3-inch squares.