Bitter Greens' Salad With Kumquat
COOKGIRl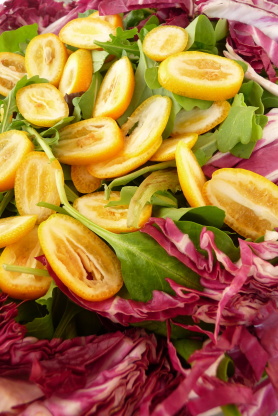 I cut the recipe in half and red wine replaced red wine vinegar. Experiment with other bitter greens. Makes enough for two-three small side salads. Bold flavors and a beautiful, welcoming burst of color in winter! Found on delish.com.
Whisk vinaigrette ingredients together; season with salt and pepper.
Toss the greens together in a bowl.
Plate the greens onto salad plates and arrange kumquats on the salad.
Serve with the vinaigrette.