Bistro-Style Beef Steak Sandwich
lazyme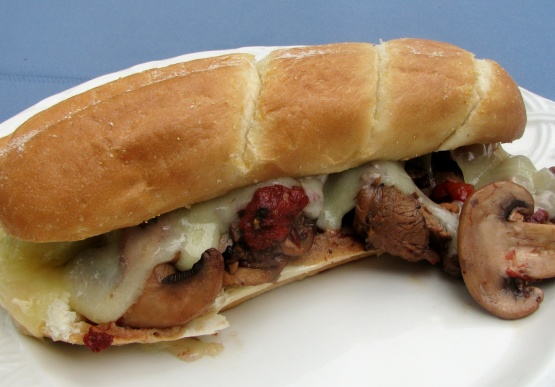 With summer fast approaching, it's time to dig out the fabulous sandwich recipes! This is just one of my many favorites to make!

We all liked this sandwich very much. I made as directed except for the roasted red peppers. When I opened my jar of peppers, they were spoiled so I had to proceed without them. I know the peppers would be awesome in this though, so next time, I will be sure to use them. I still had about 1/3 cup of liquid left after heating through so I just drained it off. Then, I thought that maybe I should have kept it for a dipping sauce (like au jus). Thx for sharing this recipe!
Stack beef steaks; cut lengthwise in half and then crosswise into 1" strips.
Heat 1 Tbl. olive oil in non-stick skillet over med-high heat til hot.
Stir-fry beef strips and garlic (1/2 batch at a time), 1-2 minutes or til outside surface is no longer pink.
Remove from skillet and season with 2 Tbl. soy sauce and pepper.
Reduce heat to medium.
Add 2 teaspoons oil to pan (if needed), and stir-fry onion 5 minutes.
Add mushrooms and continue cooking 2-3 minutes or til veggies are tender.
Add red pepper, wine and remaining 1 Tbl. soy sauce, bring to a boil.
Reduce heat and return beef to skillet.
Heat through.
Pile beef mixture onto bottoms of rolls.
Top each with 2 slices cheese.
Place on cookie sheet with tops next to bottoms cut side up, and broil just til cheese is melted and inside tops are lightly toasted.