Bistro Beef Noodles a La Slow Cooker!
CIndytc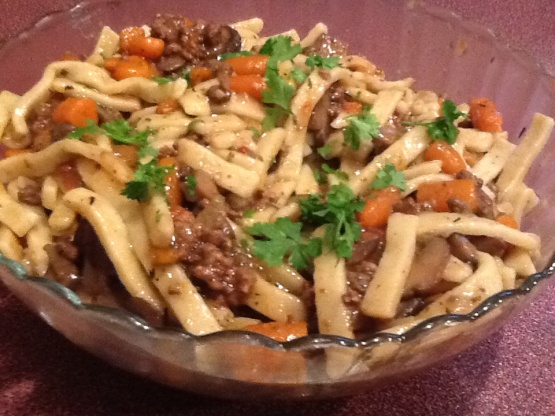 This is for the ZWT 8 French Affair challenge. I have made FloridaNative's Bistro Beef & Noodles in my slow cooker and here's the results! As per Florida Native's updates, I made a few small changes...
In a skillet, spray with cooking spray and scramble fry the ground beef and onion with the worchestershire sauce and 1/2 tsp pepper until no longer pink and put in the slow cooker.
Melt butter in pan and add onion wedges, garlic and mushrooms to the pan and saute 8-10 minutes or until browned, then add to slow cooker.
Add broth, carrots, salt, thyme and remaining 1/2 teaspoon pepper.
Cook on high for 4-6 hours - while it's cooking, prepare egg noodles according to package directions.
Combine red wine and corn starch; stir until smooth. Stir into crock pot with red peppers and keep on high for half an hour until sauce thickens.
Place prepared egg noodles on a serving platter and top with meat sauce and sprinkle with fresh parsley.