Bisquick's Easy Turkey Pot Pie
rjoyce1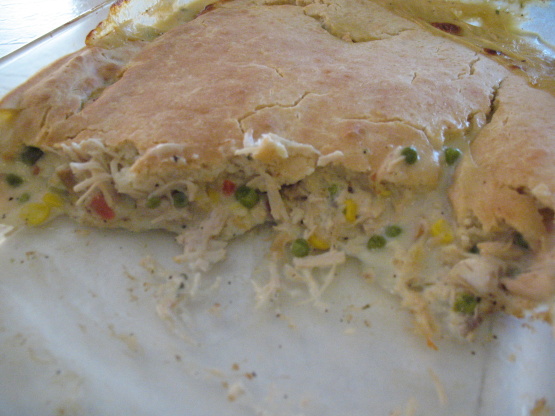 A fast and easy way to use up turkey leftovers. Yum!

I had left over turkey and needed a way to use some of it up. This recipe was the one I chose, and I sure am glad that I did. It is quick and easy and uses foods that most cooks have in the freezer and pantry. Since my left over turkey was cajun baked, I used cajun seasoning in the bisquick mix instead of poultry seasoning, just to keep from blending the two flavors. It was wonderful. Will make again!!
Heat oven to 375ºF.
(350ºF. for glass pan).
Heat soup, broth, turkey and vegetables to boiling, stirring constantly.
Boil and stir 1 minute.
Spread in ungreased rectangular pan, 13x9x2-in.
Stir remaining ingredients until blended.
Pour evenly over soup mixture (crust will rise during baking).
Bake about 30 minutes or until light brown.