Put strawberries on it!
Make and share this Bisquick Shortcake recipe from Food.com.
Directions
combine with melted butter.
425 degrees F.
cook 10-12 minutes.
Reviews
Most Helpful
Super easy, and tasty. Add a pinch of salt, as with most baked goods, and I added an extra TBSP of sugar to the dough. Make sure to mash your strawberries up and add sugar and a lil water and let them sit for several hours at least. They will make a nice syrup which is needed because the shortcakes are very dense and need the liquid. Served this to guests and one of the guys says its one if the best things he'd ever eaten. Used strawberries, added blueberries, and let it macerate and infuse overnight, then served topped with whip cream. Yum! Will do a photo next time..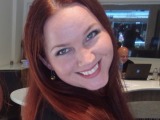 Excellent light and crispy shortcake. I cooked it lower and longer (325 for 25-30 minutes) because my oven burned it at 450 and didn't cook the centers
This was okay, but I couldn't shake the taste and texture of eating a biscuit.