Bisquick Cheeseburger Pie
Sarah D.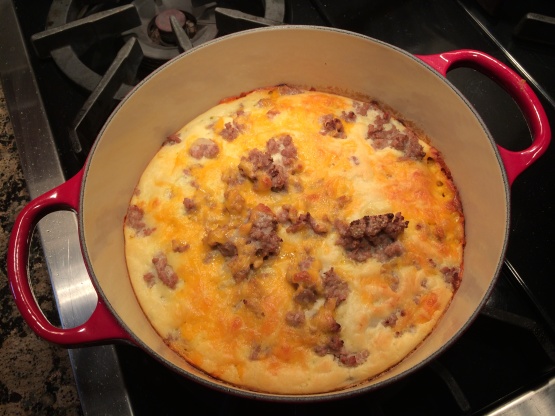 This is ridiculously easy and my kids love it. You can add other spices, or even tomatoes. You can also change the cheese to make it your own. I've varied it depending on what I am in the mood for and what I have on hand. I always use ground turkey; the original recipe called for ground beef.

Used ground sausage with a beef bullion cube (I should have reduced the recipe's salt) and added 1/2 onion while it browned (and 2 cloves garlic just before draining it). Poured a can of diced tomatoes (for veggies) on top before the cheese. Followed the recipe for the rest. Kids weren't crazy about the tomatoes, but I thought it made a tasty (and easy) lunch.
Heat over to 400 degrees and grease a 9" pie plate.
Cook turkey and onion til turkey is browned, drain well.
Spread in pie plate.
Sprinkle with cheese.
Stir remaining ingredients til blended and pour into pie plate.
Bake for 25 minutes.