Bisquick Beer-Batter Fish Fry
Janni402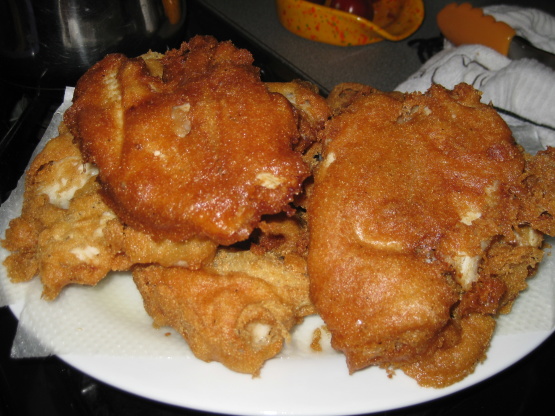 This batter always turns out light and fluffy, I also like to add in some cayenne pepper :)

The batter had a good flavor, but found it difficult to work with due to the thickness. I added about an extra 2 oz. of beer to thin it out a little. I added a couple of dashes of cayenne for some heat. I used tilapia filets for the fish, which were thin but worked out fine. I loved the texture that the cornmeal lent... filets were nice & crispy!
Heat oil to 375 degrees F.
Combine dry ingredients; add beer to get a sticky consistency for dipping.
Salt fish; dip in batter.
Deep fry until fish is golden brown.
Note: a thicker cut of fish would be more suitable for this recipe such as Snapper, Walleye White Bass White Perch etc.