Bison Burgers With Cabernet Onions and Wisconsin Cheddar
ChefLee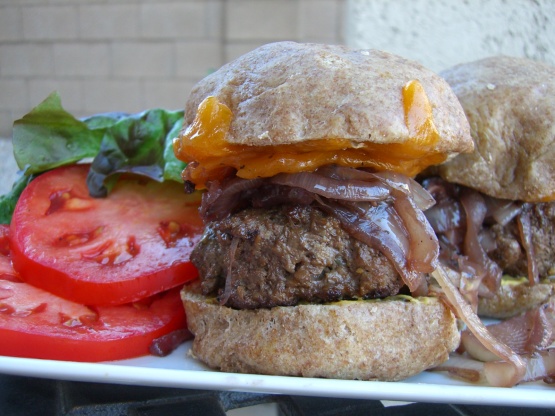 Bison (buffalo) meat is very lean and is a healthier alternative to beef. The Cabernet onions nicely complement the burgers. From Bon Appetit, February 2009.

Top Review by Becky
My husband really loved this but the flavors were too advanced for our kids (who are teens). The burger flavor was okay. The onions were definitely my favorite part of this recipe. I didn't really like the addition of thyme and felt like it overpowered the flavor of the meat. If I decide to make it again I would probably reduce the amount of thyme - or maybe try using a little fresh herb instead.
Heat 1 tablespoon oil in heavy medium skillet over medium-high heat. Add onions, sprinkle with salt, and sauté until tender and golden brown, stirring often, about 10 minutes.
Reduce heat to medium and continue to sauté until very tender and well browned, about 15 minutes longer. Add wine and cook, stirring occasionally, until liquid is absorbed, about 5 minutes. (Can be made 3 days ahead. Cool, cover, and chill.).
Preheat broiler. Gently mix meat and next 3 ingredients in large bowl. Shape into four 1/2-inch-thick patties. Heat remaining 1 tablespoon oil in heavy large skillet over high heat. Sprinkle burgers with salt and pepper; add to skillet. Cook until well browned, about 2 minutes per side for medium-rare.
Open buns and arrange, cut side up, on rimmed baking sheet. Place cheese slices on bun tops. Broil until cheese melts and bottom halves are lightly toasted, about 1 minute. Spread bottom halves with mustard. Top each with a few escarole leaves, then burger. Spoon onions on top pf burgers, dividing equally. Cover with bun tops; press lightly.