Nimz1466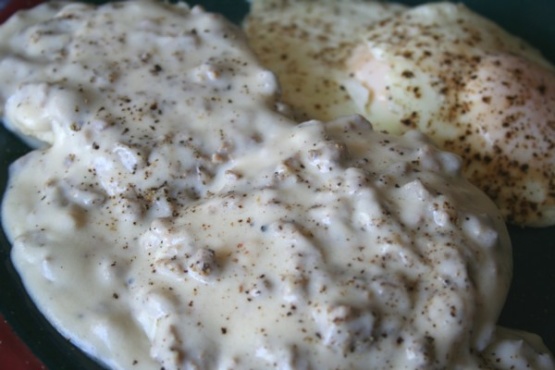 I serve this every year for Christmas brunch, Easy and good. After I make it I put it in the crockpot on low on the buffet and its always a big hit. I usually double the recipe ( I sometimes double the recipe and still use only 1/2 lb. sausage).

Served with a couple of eggs scrambled.We have been raving all day about this great meal. I am sure if one is ambitious enough homemade biscuits would make it better, however the convenience and the time saved by using refrigerated biscuits should not be overlooked as the gravy is what makes this recipe one of the winner.
Brown sausage in skillet, stirring until it crumbles.
Drain, reserving 1 Tbs.
drippings in skillet.
Set sausage aside.
Add butter to drippings, heat over low heat.
Add flour, stirring until smooth.
Cook 1 minute, stirring constantly.
Gradually add milk, cook over medium heat stirring constantly.
Stir in seasonings and sausage.
cook until heated.
I use a whisk.
Hey, Don't forget your favorite Bisquits ( I use grands).
Thanks SueL for the reminder.