Ms B.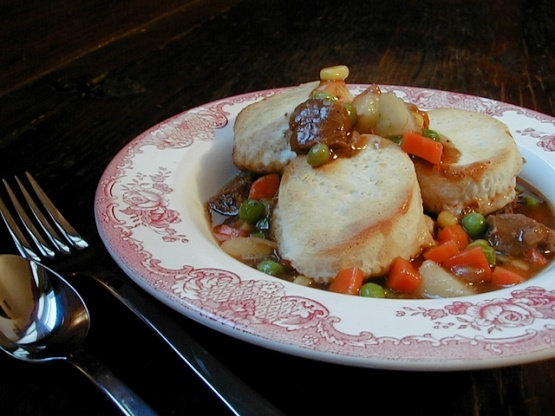 I adopted this recipe and made a few changes when I prepared it. I don't care for canned mixed veggies and don't usually have frozen mixed vegetables on hand. Therefore, I chopped up a couple of carrots and microwaved in a bit of water until tender; microwaved the potato and cubed it; sauteed some chopped onion in olive oil; defrosted some corn and peas; and stirred all of this together with a jar of beef gravy. My steak was round steak that I had slow cooked in the oven with beef broth after seasoning with Montreal steak seasoning. My husband thought that this was a winner, and I will surely repeat it again with leftover roast beef and steak. The comments of the original chef are as follows: "I found this in a cookbook of mine and made a few changes to suit my tastes better. It's a great way to use up leftover steak. Or you can change the meat and/or gravy and veggies to suit whatever meat you have leftover. I hope you'll enjoy it, too!"

This is more of a cold-weather dish -- not to be made when it's supposed to be over 100f out (though, it was still really tasty). I browned, then cooked the meat for a couple of hours just to make sure it was edible, and then followed the rest of the recipe. If anything, it was better the next day for lunch.
1 1⁄2 lbs steak, cooked and cubed

1

(15 ounce) can mixed vegetables or 2 cups frozen mixed vegetables

1

large baking potato, cooked and cubed

2

cups beef gravy (homemade or in a jar)
1⁄2 teaspoon thyme
1⁄2 teaspoon black pepper

1

(12 ounce) can refrigerated buttermilk biscuits
Preheat oven to 375F and spray 8x8 pan with nonstick cooking spray.
Combine steak, veggies, and potato in prepared dish and then stir in gravy and seasonings.
Bake, uncovered, 40 minutes and then remove from oven.
Increase oven temperature to 400°F.
Top meat mixture with biscuits and bake 8-10 minutes or until biscuits are golden brown.