Biscuit-Topped Chicken Pot Pie
PaulaG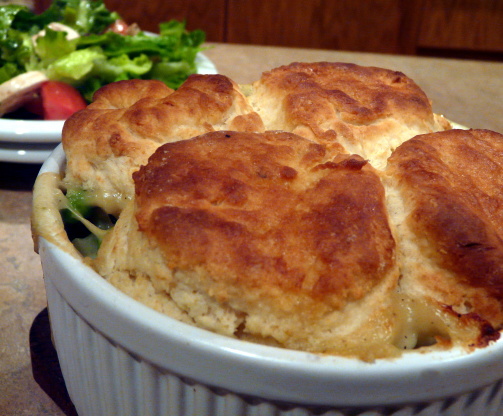 When I think of comfort food, this is the first dish that comes to mind. This is one of my family's favorite dishes. I make it often, especially when it is cold and rainy outside.
I haven't made this pot pie yet, but I intend to make it . Might put some yellow food coloring into the broth , just to make it more appealing . I will remark when I make it maybe tomorrow night .
1419.54

ml water

3

stalk celery

1

onion, quartered

4.92

ml poultry seasoning, to taste

4.92

ml salt, to taste

2.46

ml black pepper, to taste

22.18

ml chicken base (such as Minor's)

473.18

ml carrots, peeled and diced

709.77

ml potatoes, peeled and diced

2.46

ml black pepper, to taste

4.92

ml salt, to taste

4.92

ml onion powder, to taste

3.69

ml poultry seasoning, to taste

118.29

ml onion, coarsely chopped

236.59

ml frozen peas, thawed

118.29

ml celery, coarsely chopped

340.19

g can evaporated milk

78.07-118.29

ml flour (or enough to thicken sauce as desired)

BISCUIT TOPPING

473.18

ml flour

14.78

ml baking powder

2.46

ml salt

78.07

ml shortening

177.44

ml milk
Put chicken breasts in a large pot with water, 3 stalks celery, 1/2 onion, 1 teaspoon poultry seasoning, 1 teaspoon salt, 1/2 teaspoon pepper, and Minor's chicken base. Simmer, covered, until chicken is tender. Remove chicken and let cool. Tear chicken into bite-sized pieces; set aside.
Reserve 4 cups of the broth in the pot; discard the cooked vegetables. To the broth, add the carrots, potatoes, 1/2 teaspoon pepper, 1 teaspoon salt, onion powder, and 3/4 teaspoon poultry seasoning. Cook for 10 minutes. Add 1/2 cup chopped onion, peas, and 1/2 cup chopped celery. Cook for an additional 10 minutes or until vegetables are tender; add chicken.
In a small bowl, add flour to the evaporated milk; stir into the vegetable mixture. Cook until the mixture thickens (add more flour if necessary). Adjust seasoning, if necessary. Pour the mixture into a greased 9x13" baking dish. Top with biscuit rounds, cutting some in half, if necessary, to cover top of mixture. Bake in a 400 degree oven for 25 minutes, or until biscuits are golden brown and mixture is bubbly. Remove from oven and brush tops of biscuits with butter or margarine.
Biscuits:.
In a medium bowl, stir together flour, baking powder, and salt. Cut in shortening until mixture resembles coarse meal. Add milk; mix well. Turn dough onto a lightly floured surface. Roll out to 1/2" thickness. Cut with 2-3/4" biscuit cutter. Makes 15 biscuits.