Biscotti All'arancia E Mandorle (Orange and Almond Biscotti)
RotiJala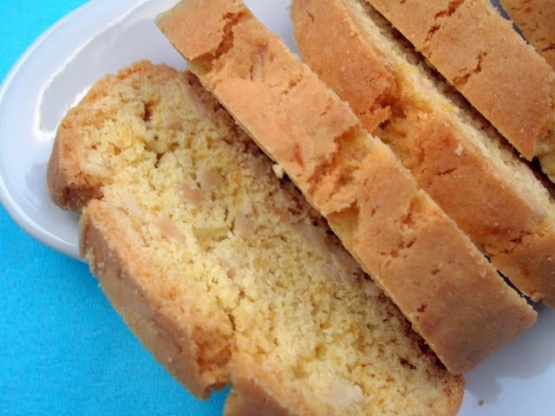 From cookiesfromitaly.com. Can be prepared 1 week ahead and stored in the refrigerator until ready to bake. Store in an airtight container. These biscotti have a great and unusual flavor with the orange and almond combination!

Cantucci is the Italian name for this biscuit (biscotti is a general word for biscuits) which has origins in Tuscany, my Italian friend tells me. You dip it in vino santo and eat it. Great idea, Sunshynetoo - re: making a whorl pattern with the cocoa. I had no oranges or orange peel, so I used 1 tablespoon of grated lemon peel which makes the biscotti smell wonderful. I'd suggest lessening the sugar to 3/4 or 2/3 cup (one cup is way too sweet!). I also threw away the eggwhite of one egg so the dough would be easier to handle - less soft n sticky.
3

cups all-purpose flour

4

teaspoons baking powder

1

cup sugar

7

tablespoons unsalted butter, room temperature

3

large eggs
3⁄4 cup blanched almond, chopped (about 3 1/2 ounces)
1⁄2 cup candied orange peel, finely chopped

3

tablespoons orange liqueur or 3 tablespoons brandy

1

large egg yolk, beaten to blend
Preheat oven to 350°F
Line 3 baking sheets with waxed paper. Lightly flour waxed paper.
Sift flour and baking powder into medium bowl.
Beat sugar and butter in large bowl until blended.
Add eggs, 1 at a time, beating until fluffy.
Mix in nuts and candied orange peel.
Add flour mixture and liqueur; beat until well blended.
Spoon dough out onto 1 prepared baking sheet, pressing to form 12-inch-long rectangle, about 5 inches wide (dough will be very soft). Place in freezer until firm, about 30 minutes.
Cut chilled dough lengthwise into 3 strips.
Shape each strip on lightly floured surface into 12-inch-long, 1 and 1/2-inch-wide and 1-inch-high log.
Transfer logs to remaining 2 prepared sheets, 1 log on 1 sheet and 2 logs on second sheet, spacing 2 inches apart.
Brush logs with egg yolk.
Bake until golden and firm to touch (dough will spread), about 30 minutes.
Cool completely on baking sheets. Reduce oven temperature to 325°F
Using serrated knife, cut logs into 3/4-inch-wide diagonal slices.
Stand biscotti slices upright on 2 heavy large baking sheets.
Bake until biscotti are pale golden, about 25 minutes.
Transfer to racks and cool.