redjenmt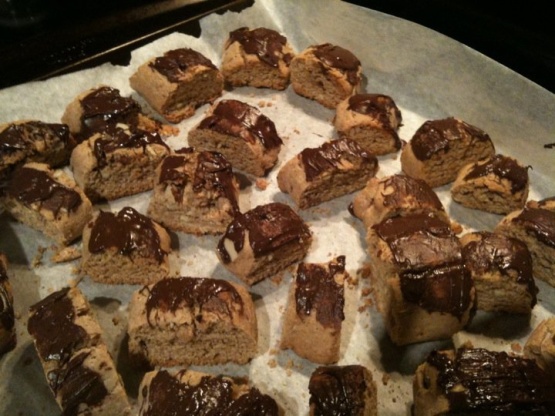 My great-grandmothers recipe from Italy. Yummy, and so addictive! Everyone likes them or loves them!

I made this with almonds and I'm going to try pistachios next. It was EXCELLENT and the texture was perfect. I topped about half the batch with melted chocolate chips, which was also good. Due to lack of reading comprehension, I made a whole bunch of 1 inch logs and baked them, thinking it was a strange way to do biscotti... about halfway through I realized how dense I was and just laughed it off. I ended up with tons of little 2-bite biscottis, which were really rather cute! I may make them that way again!
Preheat oven to 350°F
Spray a jelly roll pan (a cookie sheet with sides) with cookie spray. Set aside.
Cream butter and sugar together. Add vanilla and eggs.
Whisk dry ingredients together and slowly add to butter mixture.
Add walnuts (or whichever nuts you prefer).
Turn dough onto floured surface; divide dough in half. Knead on half at a time, and roll into a 1' log. Place onto prepared sheet. Repeat with the other remaining half of dough.
Bake for 30 minutes. Take out of oven and cut into 1" wide slices. Lay on their sides and bake for 10 minutes.
Let cool before eating. Enjoy!