Bird's Ultimate Taco Salad
2Bleu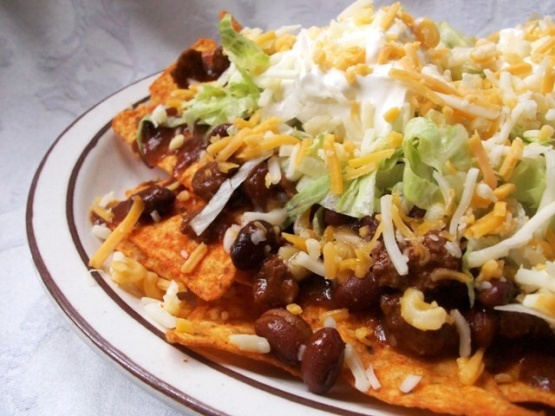 Another one of my creations that is always asked to make again and again. A definite kid pleaser, and guy pleaser as well. You can add additional items of your liking like black olives, guacamole, jalapenos, etc.

We got home late Saturday and I wanted a quick, lite dinner. I followed the recipe as written other then I didn't measure the cheese. I also let each person pick their topping as one doesn't like sour cream, the other doesn't like tomatoes LOL. We all enjoyed our individual meals! This was quick and easy to make.
Onto two plates (or 1 if sharing a plate), arrange Doritos.
Heat chili, and pour over doritos. Top with half the cheese, then lettuce, then tomatoes.
Add a dollop of sour cream onto each serving, then sprinkle with remaining cheese and serve.