Bird's Sweet and Fiery Chipotle Sticky Wings
2Bleu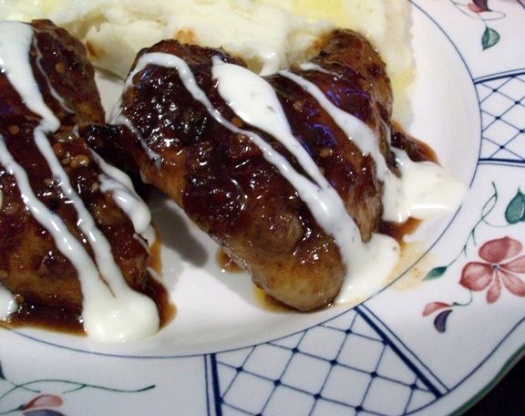 I created this fiery sauce with a sweet orange overtone for wings, but it goes great with pork chops or chicken breast nuggets too. Using this preperation technique is key and produces some great wings. For your guests who might feel this is too hot, no worries. Simply serve it with some ranch dressing and it will tone them down, plus it adds a whole new level of yummy! A must try!

Great wing recipe! Made it a bit healthier by taking the suggestion from your intro and making chicken nuggets instead of wings (shortened the cooking time a bit). Just loved the sweet and spicy, the chipotle and orange are a great match. Thanks for posting the recipe!
SAUCE: Using a small food processor or an immulsion blender, mix all ingredients well and set aside.
WINGS: Place one oven rack 4-6 inches from heat source, and the other in the center. Preheat oven to broil setting. Place wings on a baking sheet and sprinkle with salt and black pepper. Broil 4-6 inches from heat for 3 minutes per side, or until browned (being careful not to burn them).
Switch your oven from Broil to bake 350°F Remove wings from broiler and place them into a 9x13" pan. Add sauce and mix well to coat the wings (It's a good idea to use a disposable pan, or cover it in foil to make cleanup easier).
Bake for 20 minutes, turn wings over and use a spoon to baste with sauce. Return to oven and bake an additional 15 minutes.
Sprinkle wings with brown sugar and bake an additional 5-10 minutes. Remove from oven and immidiately drizzle with a bit more honey, and serve with ranch dressing.