Bird's Easy Shrimp Scampi
Kim127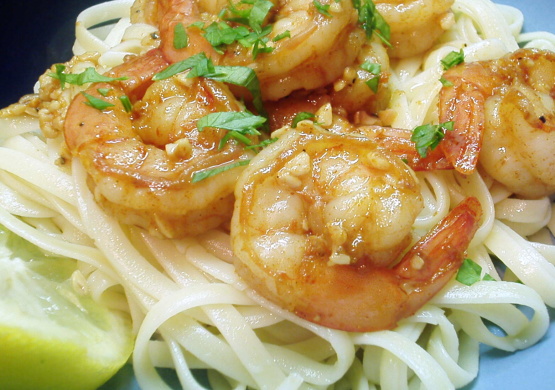 This is a very simple and versatile recipe.

I squirted the lemon right in with the wine while preparing it. We loved it! I served it over linguine and had a small salad on the side with garlic bread. What a great combination and a great meal!
Dry shrimp on a layer of paper towels to remove excess moisture. Place shrimp in a bowl and toss with paprika. Set aside.
Heat oil and butter in a large saute pan over med-high heat. Add garlic and sauté for 1 minute.
Add wine, salt and pepper and reduce by half. Add shrimp and cook on one side about 2-3 minutes to sear. Do not shake the pan at this point and it's important not to overcrowd the shrimp to sear and caramelize properly.
After one side is seared, begin to shake the pan and toss shrimp to continue cooking another minute or two. Sprinkle with parsley (and also the optional seasoned bread crumbs if using) and saute'/toss one more minute. Garnish with lemon wedges and serve.