Bird's Easy Cheesy Shepherd's Pie
loof751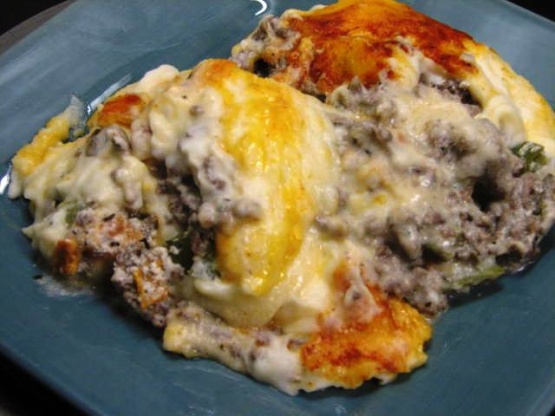 This is a very flavorful Shepherd's Pie. It puts a new twist on an old favorite by the addition of cream cheese and a dash of ground mace, and it's super easy to make. You can use any leftover veggies such as corn, carrots, string beans, etc. My photo was made using a shallow pan, because my deep dish pan was busy at the time. :)

Very tasty and very easy. The only change I will make in the future will be to eliminate the pie crust. It was really superfluous to the recipe. I will prepare this dish in a casserole instead.
Preheat oven to 375°F Mix potatoes, cream cheese, half of the cheddar cheese, and garlic until well blended (use microwave if necessary). Set aside.
Brown meat, onion, Italian seasoning, and ground mace in large skillet and drain. Return meat back to pan and stir in vegetables and sour cream. Heat to warm.
Pour meat mixture into a deep 9" pie crust. Cover with potato mixture.
Sprinkle with remaining cheddar cheese and paprika. Bake for 25 minutes or till heated through.