Birdie's King Ranch Chicken Casserole
CandyTX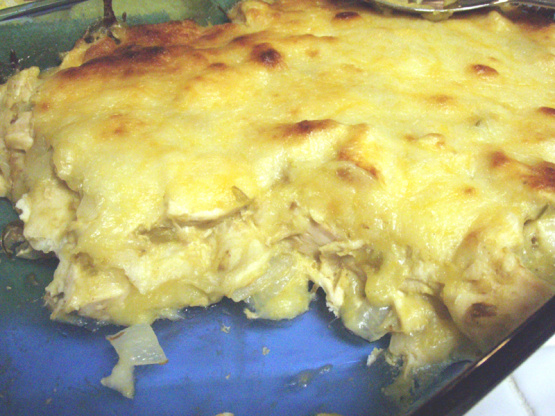 This is "White King Ranch Chicken Casserole". You have heard of "white chili" this is "white" version of King Ranch Chicken Casserole. Delicious, layered chicken casserole.

This was just "okay". I think it would have been better if we put some thin salsa or rotel in with the soup or something. It was just missing some zip, a little bland, but edible. This is not like any King Ranch Chicken we've had before. We're going to have the leftovers with salsa on top :)
Brown onion in oil.
Combine with soup, broth, chilies and chicken.
Heat through.
In large greased casserole dish, layer tortillas, chicken mixture, cheese.
Repeat layers until casserole is filled.
Bake in 350 degree oven for 30-40 minute.