Rita1652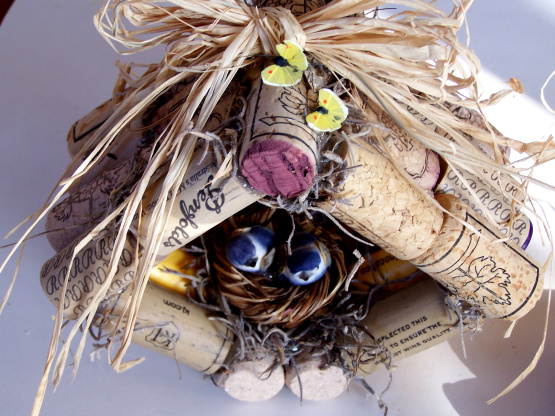 These darling little bird houses are made with collected wine corks. I made 10 of them (center pieces) for my daughter's bridal shower. Each is different in little ways! I've collected corks from many different wine that we drank and from those that gave to me. My Best Dad in the world went and bought me some never used for me to use too. He makes his own wine! For those that want an easy way just ask your favorite restaurant to give you the corks they throw away! The bird house are held together with hot glue sticks. Spanish moss or dried herbs( for a beautiful aroma) can be used to fill in the spaces and give it that lived in feeling. Decorate as you want! I uploaded picture step by step to help with assembling. The birds, butterflies, ladybugs are your choice. Be creative as you want!

Can we give 10 stars? 5 for the fabulous birdhouse and 5 for the wonderful woman who creates them. I am honoured to have received 2 of her precious gifts, both are currently hanging in my large kitchen window. One will be going to the cottage this summer to hang on the porch. I am so thrilled with both of them. I have been making some with champagne corks (corks from a neighbor) and although they do not fit as nicely I reverse them to have round and flat meet so they get symetry. I have made close to a dozen now and have giventhem out to friends. Also used cinnamon sticks for the perch and cinnamon broom thatch with the spanish moss for scents.Easy to follow directions and so much fun to make. Thank you Rita!
glue, gun

6 -18

inches ribbon (raffia)

30

wine corks
dried spanish moss dried herb like lavender or rosemary

6

glue sticks (you may need more or less depends on how long the sticks are)
ribbon (Raffia, to make a bird nest)
Tie a bow with the raffia.
Assemble corks by size the best you can. So each section is about the same size.
When gluing adjust corks while glue is hot to even out.
This is glued in 6 sections then put together.
The base is 4 corks glued (2 side x side then glued end to end.
Attached to the right and left of the base will be 1 row of 4 corks glued together (side x side).
The peak is 2 corks glued end to end.
The 2 roof tops are 8 corks each. Two rows of four corks glued side X side, then glue the 2 rows together.
Assemble start at the base attach the right side and the left side. Eye them to make them come out on an angle.
Then go to the top half glue the peak to the roof sides. Take note in the pictures how they meet.
You can adjust while glue is warm.
Randomly place hot glue on open spaces and top with moss or herbs. Place a nest inside and place birds in the nest. Adhere the bow on top with hot glue.
Be careful not to burn yourself. I made 10 and burnt myself 3 times.