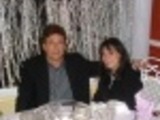 Bircher Muesli was introduced around 1900 by the Swiss physician Maximilian Bircher-Benner for patients in his hospital, where a diet rich in fresh fruit and vegetables was an essential part of therapy. The original Bircher-Benner recipe is proportionately the opposite of most muesli available in today's supermarket varieties, calling for far more fruit than grains.
1 tablespoon rolled oats, soaked in 2-3 tablespoons water
1 tablespoon lemon juice
1 tablespoon cream
1 large apple, finely grated and mixed (preferably a sour variety)
1 tablespoon ground hazelnuts (optional) or 1 tablespoon almonds (optional)
Directions
Mix all ingredients together directly before serving.
Reviews
Most Helpful
Thanks for posting the original recipe! The taste always reminds me of my Swiss dad who made it with a lot of whole milk and tossed in a banana once in a while mmmm.