Billy's Red, White, and Bleu Pasta

This pasta is very rich, delicious, and filling! This is another recipe my boyfriend came up with while messing around in the kitchen one day and we both love it now.
Directions
Cook pasta according to package directions.
Melt butter and olive oil over medium heat, then add onions, garlic, and capers.
Break up the onions with a spoon as you saute them and cook until softened and slightly browned.
Sprinkle the flour over the top and stir constantly for 1 minute.
Slowly add the half & half while stirring to combine.
Let it come to a boil, stirring occasionally.
Turn the heat to low and add the cheese, stirring until completely melted.
Add the tomato paste and olives and stir to combine.
Add red pepper flakes, basil, and parsley.
Add salt and pepper to taste.
Pour the sauce over the pasta and toss to coat.
Serve with parmesan cheese if desired and enjoy!
Most Helpful
A superb pasta dish that is out of the ordinary. I made this as posted, except I made a full pound of fettucine, and this was still more than enough sauce. As I was cooking the sauce, though, I noticed it became quite thick, so I added about 1-1/2 cups of pasta cooking water to thin it out, which was perfect, before adding the pasta and stirring all together. You really get the taste of the bleu cheese without it being overpowering. Kudos to Billy! Made for ZWT8.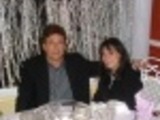 Wow this was creamy and delicious! I ended up substituting half milk for the half and half to make it a little healthier and it was still thick and creamy tasting. Like tswiss I also added some veggies to make it a one dish meal. This made a lot a lot of sauce - about double the amount of pasta! I think I'm gonna try freezing it and I'll let you know how it goes. What a treat to pull out of my freezer!

Made for ZWT-8 & delicious it is! I agree that messing around in the kitchen often produces terrific recipes. Made as written, I taste-tested it & then did some messing around of my own. I esp admire recipes that can be made as written & served w/pride, but can also be expanded: 1) To a 1-dish meal w/veggies included, 2) To suit a particular occasion &/or pers pref & 3) To meet the need for more food to serve more people than you expected. I used reg spaghetti (on-hand) & in my expanded version added sliced mushrooms, cooked broccoli florets & pan-seared bite-size pieces of pork cutlet (I planned ahead for my expansion). The outcome was excellent, so thx for sharing this great recipe w/us.