Bill's Favorite Pumpkin Crumb Cake
Prep 15 mins
Cook 45 mins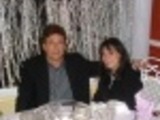 My boyfriend, Bill, cannot get enough of this cake, which I would venture to say is his all-time favorite! I finally decided to post it for all the pumpkin-lovers out there! It is very easy to make, and is a nice alternative on your Thanksgiving or holiday dessert table.
Directions
Preheat oven to 350 degrees . Spray 9x13 inch baking pan with non-stick cooking spray.
Measure out and set aside 1 cup of the dry cake mix.
In a large mixing bowl, combine the rest of the dry cake mix with 1 egg and 1/2 cup melted butter. Mix well, and then pat with fingers into prepared pan to form a crust layer.
In a large bowl, mix together the pumpkin puree with the 3 eggs, 1/2 cup white sugar, brown sugar, and cinnamon. Pour over crust.
In a small bowl, combine the reserved 1 cup cake mix, 1/2 cup sugar, and 3 tablespoons softened butter. Crumble over pumpkin filling to make crumb topping. Sprinkle walnuts evenly over the top.
Bake in preheated oven for about 40 to 45 minutes until set and lightly browned.
Most Helpful
5++++ OMG! These were so good! I am not a pumpkin or cinnamon fan but the combination of all ingredients made this dessert fantastic. I have made these x 2 since last Friday. I am making this for a cookie exchange. IMO, if you want this to have more of a pumpkin flavor, decrease the cinnamon. Overall, these were fantastic.

I served this cake to my Brother last night,and he was ooh,and aahing,then his wife told him that it was pumpkin,and I had no idea that that he actually didn't like pumpkin before eating this cake.Needless to say I gave his wife a copy of the recipe to take home!
Huge hit! Great taste. The crust is so wonderful. Like it better than Pumpkin Pie!!