Bill's Best Chicken Pot Pie Soup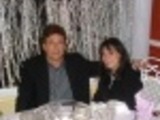 I had never heard of chicken pot pie soup, until I learned that it was an all-around best seller at a soup restaurant chain. I decided to create one for my dear William, who was bowled over (nice pun?) with the results. Posting here while it's still fresh in my memory!
Directions
Steam potatoes until cooked (I steamed them in the microwave for about 5 minutes).
Meanwhile, spray large soup pot or Dutch oven with non-stick cooking spray. Cook onion and garlic until translucent.
Add butter; when melted, whisk in flour, bouillon and white pepper. Cook for about 1 minute, then slowly add milk, whisking well to blend, and bring to a simmer. Cook for another minute.
Stir in chicken, peas and carrots, and potatoes. Cook for about 1 minute. If too thick, add a little milk. Add additional salt, if desired.
Reviews
Most Helpful
We thoroughly enjoyed this hearty soup last evening. It really is pot pie filling without the crust. I used fresh chicken, carrots and peas and started by cooking the chicken and onions proceeding from there. It ended up thick and rich tasting even though I used less butter than ask. This is great comfort food and made for a very happy DH who kept on saying "this is really good!". Thanks for sharing Jackie, we'll be seeing this again. :D