Janni402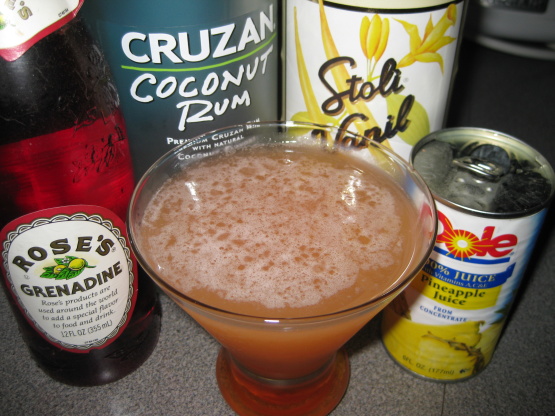 Smooth and delicious! You can make them by the pitcher too, by just changing the servings to 8, filling a pitcher with ice and adding all of the ingredients to the pitcher, including the fruit

This drink is awesome. Please try it, I guarantee you'll love it. Rum is my least favorite spirit, but it blended perfectly with the other flavors. Watch out tho, cuz these sneak up on you after a couple! Thanks for posting, SoozieQ, this is my new favorite `Tini!
Martini

1

ounce coconut rum

1

ounce vanilla vodka

4

ounces pineapple juice
1⁄4 teaspoon grenadine

Garnish

pineapple (chunk)
Combine rum, vodka, pineapple juice, grenadine in a shaker full of ice.
Shake firmly until frothy.
Pour in a martini glass and garnish with pineapple chunk and maraschino cherry.