Prep 20 mins
Cook 20 mins

An adaptation of Heidi Swanson's Big Sur Power Bars from her cookbook, 101 Cookbooks, this is easily changed around to suit your tastes! I love Big Sur so had to post this! These bars are soft set, prone to falling apart and are fairly sticky and gooey too. All adds to their deliciousness. :)
1 tablespoon sunflower oil (or other healthy oil)
1 1⁄4 cups rolled oats
3⁄4 cup walnuts, toasted and chopped (or nut of your choice)
1⁄2 cup sliced almonds, toasted (or nut of your choice)
2⁄3 cup shredded unsweetened coconut
1⁄2 cup oat bran
1 tablespoon ground flax seeds (or or and nutritional yeast flakes)
1 1⁄2 cups crisped brown crispy rice cereal (not the puffed rice-or use rice crispies)
1 cup chopped dried cranberries (or dried fruit of your choice)
3 tablespoons finely chopped crystallized ginger
1⁄3 cup sesame seeds
1 cup brown rice syrup (or use agave syrup, or maple syrup or try honey, using a little less)
1⁄4 cup unrefined unbleached cane sugar (turbinado sugar, or brown sugar)
1 teaspoon pure vanilla extract
1⁄2 teaspoon fine grain sea salt
Directions
Grease a 9" x 13" baking pan with the oil. If you like thicker bars, use a 8x8 inch baking pan.
On a rimmed baking sheet toast the oats, nuts, and coconut for about 7-9 minutes, or until coconut is golden brown. Stir twice during the baking to make sure everything bakes evenly.
Place the baking sheet ingredients into a large mixing bowl and add the oat bran, cranberries, ginger ground flax seeds, and brown rice cereal.
Using a small skillet, heat the sesame seeds over medium heat for 3-5 minutes. Stir constantly so the seeds do not burn — remove from heat when they become golden in color.
In a small saucepan stir together the remaining ingredients over a medium heat until they start to bubble and boil and thicken slightly(syrup, sugar, vanilla and salt).
Pour the hot liquid in with the dry ingredients and mix until they are fully coated in the syrup.
With buttered hands, pat the mixture into place in the pan.Sprinkle with toasted sesame seeds and press again. Cool to room temperature before slicing. It may be easier to tip them out of the pan first, before cutting.
Wrap individually in parchment paper (or waxed paper).
Reviews
Most Helpful
My husband went crazy for these bars! I followed the recipe pretty closely except I left out the turbinado sugar and instead used a full 1 cup of honey, as I felt there needed to be as much binding agent as possible. Also for this reason I replaced the oat bran with more nuts as bran seems to soak up liquid readily. It worked great, my bars were quite solid. One tip is to make sure that you brown the nuts and oats to a very golden brown in the oven before assembling. Remember once pressed into the pan these are not baked further. Thanks, Sharon123! [Made for Zaar Cookbook Tag]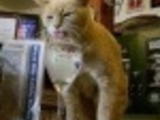 These are awesome! Thanks for the recipe! ~lauracyw http://cultivateyourwellness.com
These are great masha Allah! They really can be changed up to accommodate what you have and like. May not even need the additional sugar for which I used dark brown. I did use an unrefined sunflower oil, additional old fashioned oats as I didn't use coconut or rice cereal as I had neither on hand. I used chopped walnuts and sliced almonds. Ground up more old fashioned oats instead of oat bran which I didn't have. I didn't add flax or yeast. Used sweetened dried cranberries and crystallized ginger (loved that addition), sesame seeds which I mixed in after toasting. I used date syrup! Worked well. Didn't add vanilla and used sea salt. They were soft and fell apart at parts but yummy and pretty healthy seeming none the less. Made for Cook-a-thon for Sharon123 in KK's forum.