Big, Super-Nutty Peanut Butter Cookies
Chilicat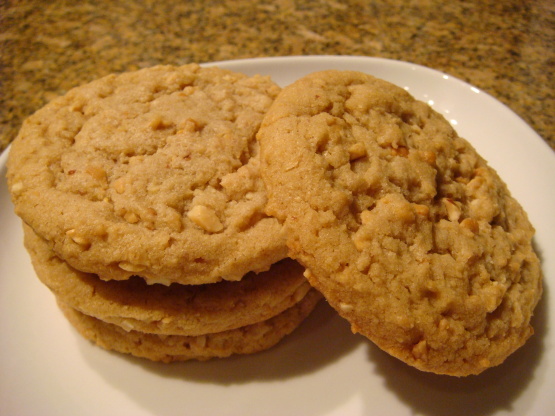 I found this recipe on the Cooks Illustrated website and it is very good! Bringing the butter, peanut butter, and eggs to room temperature makes it easier to blend the ingredients. Be sure to grind the peanuts, since whole, and even chopped peanuts tend to slip out of the dough. If using unsalted butter, increase salt to 1 teaspoon. Keep finished cookies refrigerated in airtight container. To restore just-baked chewiness, wrap a cookie in a sheet of paper towel and microwave for approximately 25 seconds. Cool before serving.

Why has nobody rated these cookies yet??? I've been searching for *years* for the perfect, chewy peanut butter cookie... and THIS IS IT!! I used the medium sized Pampered Chef cookie scoop and didn't bother flattening them with a fork, and they baked up perfectly in 14 minutes. They'll flatten on their own once they cool, so unless you really like the criss cross pattern I wouldn't bother. The cookie itself is rich and chewy in the center with crispy edges - just like the kind the bakeries sell. You just can't lose with a Cook's Illustrated recipe. Thanks for posting!!
Adjust oven rack to low center position; heat oven to 350 degrees. Sift flour, baking soda, baking powder, and salt in medium bowl.
In bowl of electric mixer or by hand, beat butter until creamy. Add sugars; beat until fluffy, about 3 minutes with electric mixer, stopping to scrape down bowl as necessary. Beat in peanut butter until fully incorporated, then eggs, one at a time, then vanilla. Gently stir dry ingredients into peanut butter mixture. Add ground peanuts; stir gently until just incorporated.
Working with 2 tablespoons dough at a time, roll into large balls, placing them 2 inches apart on a parchment-covered cookie sheet. Following illustration 2, press each dough ball with back of dinner fork dipped in cold water to make crisscross design. Bake until cookies are puffed and slightly brown along edges, but not top, 10 to 12 minutes (they will not look fully baked). Cool cookies on cookie sheet until set, about 4 minutes, then transfer to wire rack to cool completely. Cookies will keep, refrigerated in an airtight container, up to 7 days.