Big Show Chicken Sandwich
loof751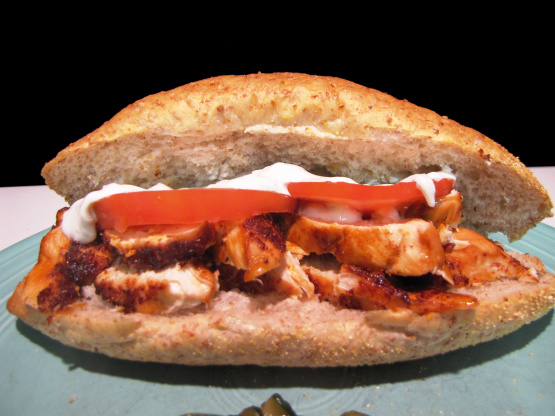 This is an easy yet tasty sandwich recipe. It has some spark to it with the coating on the chicken but the Tzatziki sauce balances it out. This is a recipe I cut out of the Columbus (Ohio) Dispatch.

Absolutely delicious chicken sandwich! Loved the seasoning, it went perfectly with the tzatziki. Left the onions out of the sauce, otherwise made as directed and really loved this - thanks for sharing the recipe! Made for the Top Favorites of 2009 event
Preheat oven to 350°F.
Line a baking sheet with foil. Grease a roasting rack and place in the pan.
Wrap each chicken breast with bacon.
Combine sugar and seasonings in a bowl. Sprinkle mixture over chicken. Place on prepared rack. Bake until chicken is cooked through, about 30 minutes.
Transfer chicken to a cutting board. Let rest 5 minutes. Cut chicken into slices.
Arrange chicken on buns. Top with tomatoes and tzatziki.
For Tzatziki sauce, peel and seed cucumber. Grate it on a box grater. Sprinkle with 1/2 teaspoon salt. Let stand 2 minutes. Drain well. Mix cucumber with all remaining ingredients.