Big Ol' Mess (Smoked Sausage in Spicy Sweet Sauce)
arphilly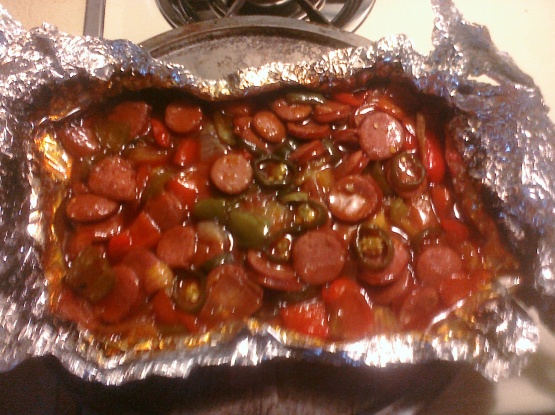 This is a grilling recipe, and one that easily transfers to the campfire when camping. You can make it up ahead of time, put it into a cooler of ice and skip the mess at the campsite. A great dish from Marlboro.

Top Review by MikeOK
I've been making this for years, and it's always a big hit at tailgates and camping. I do have a couple of suggestions;

- After a couple of near-catastophic foil packet failures, I started using a disposable aluminum lasagna pan. Much easier to check the progress and stir things up during cooking, and far less mess.

- I always slice the smoked sausage lengthwise and put it on the grill to get a bit of a char going before cutting into chunks. Improves both the flavor, and especially the texture of the final product quite a bit.
Make an aluminum foil bag. Use 2 12" x 18" sheets of heavy-duty foil (or double regular foil) and, (after the ingredients are in the bottom half), crimp the top half on.
Put the sausage, green pepper and onions in the bottom half of the foil bag.
Mix the Tabasco up with the sweet and sour sauce and pour it over the sausage mix. Seal the foil bag with the top half. Make sure it is "leak-proof".
Place on the grill (gas or charcoal) and cook for a total of 45 minutes, turning after each 15 minutes.
You can slit the bag open when done and serve from it at the campsite.
If you are cooking this in the hot coals of a campfire, reduce the total cooking time by about 15 minutes and turn every 5 minutes.