chiclet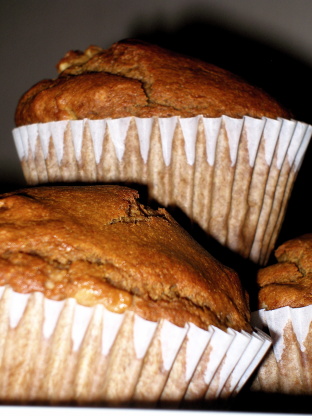 Last semester, I brought one of these muffins to school with me every day. On the last day of classes, a fellow student approached me after class and asked where I got them because "they look so good!" When I told her I bake them myself, she looked somewhat dejected and simply replied "Oh. Oh well." I felt bad that I couldn't share the recipe with her right then, so I'm making up for it by sharing with you. BTW, they freeze really well.

I tried these this morning and they were great. Very moist on the inside. I was able to make 12 small muffins since I don't own a large muffin tin.

They taste and smell almost like Apple and Cinnamon Oatmeal. I modified the recipe a little and use Fiji Apples because that is what I had on hand. My muffins did have a slight after taste but I think this is due to the brand of Apple Butter I used and not the recipes fault.

I will be making these again.
Preheat oven to 400°F Grease or line a 6-cup jumbo muffin tin.
In a medium bowl, whisk the flours, baking soda, baking powder, cinnamon and nutmeg together.
In a large mixing bowl, combine egg whites, buttermilk, apple butter, brown sugar, and maple syrup together, beating until smooth.
Stir chopped apples into the wet ingredients.
Add the dry ingredients to the wet ones; stir JUST UNTIL MOISTENED.
Spoon batter into prepared muffin cups and bake 25-30 min, until a knife inserted in a muffin's center comes out clean.
Let cool for 10 minute before removing muffins from tin.