Big Meanie's Meat & Zucchini Lasagna
David04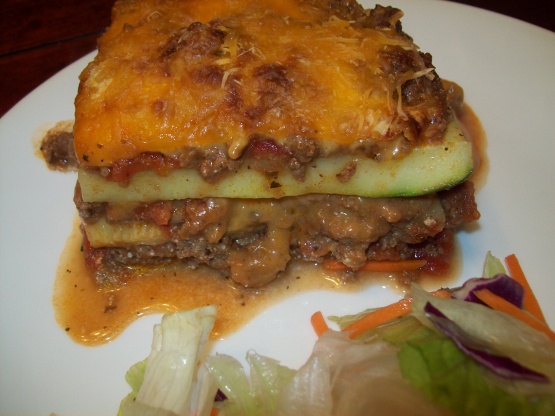 A very healthy Lasagna recipe without all the pasta. Great way for this bariatric patient to still get one of my favorite dishes. I also like to add a little low-fat ricotta cheese to the bottom layer from time to time to change it up.

This one was a hit. The whole family loved it! I will use more cheese next time and I don't think my tomatoes were large enough because my sauce ended up being more meaty than saucy once the tomatoes cooked down. Definitely a winner!
Slice the zucchini lengthwise in 1/8-inch thick strips. Place in bowl and coat with salt.
Lay zucchini out on paper towels. Let set for 1 hour to pull out moisture.
In a large saucepan over medium heat, cook onion about 2 minutes, stirring often. Add garlic.
Add ground beef and cook until browned.
Stir in tomatoes, basil, oregano, nutmeg and pepper. Cook for 20 minutes, stir occasionally, the tomatoes should break down & the sauce thicken.
Preheat oven to 350°F.
Blot the zucchini dry with paper towels.
Use one third of zucchini strips to line 9 x 13-inch baking pan. Top evenly with 1/3 of the sauce, & shredded cheese. Place 1/2 of the remaining zucchini strips on top, then 1/2 the sauce & cheese. Repeat this process one more time: using the layers.
Bake about 45-50 minutes until the sauce starts to bubble.
Let cool and serve.