Scibba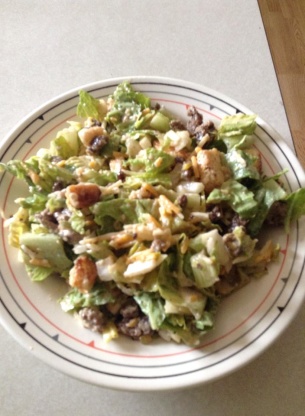 Yep. Inspired by the McDonald's Big Mac. A Parsley original. Just because it's a salad, doesn't mean it's diet food. ;)

This was crazily, unexpectedly yummy! I had my doubts. I've never been a big fast food customer. But for all my gourmet type cooking and dining, when the chips are down and I am STRESSED... I NEED a Big Mac. This totally fit the bill. I did make two slight changes. I used rehydrated onions instead of fresh, since they don't seem fresh on the burger. I also added some to the dressing. I tossed in some roughly chopped hamburger dill slices into the salad as well to cover that part of the experience. Next time, I may reheat the bread too so it is warm in the salad.
Toast all eight pieces of bread until just lightly golden-brown. Let cool and cut into cubes; set aside.
Brown and drain the extra lean ground beef. Let cool.
In a large bowl, combine the cooked and cooled ground beef, toasted bread cubes,finely chopped onions, shredded lettuce and cheese; toss well. Place in a large salad/serving bowl.
In a seperate small bowl, stir together the mayonnaise, ketchup, relish, salt and pepper.
Drizzle the dressing over the salad. You can either leave it drizzled or toss everything to evenly coat salad.
Sprinkle with sesame seeds.