Pamela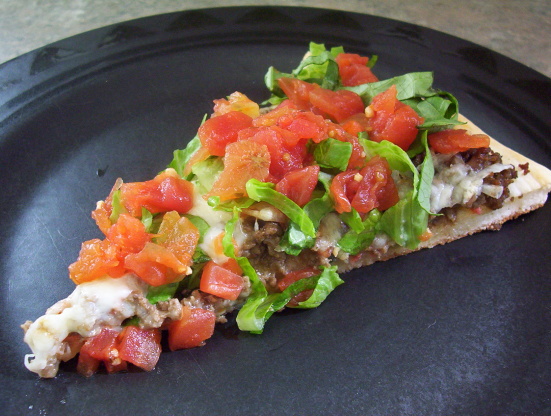 This cheeseburger pizza is so different from the others on 'zaar' I renamed it 'Big Mac' because it tastes like a big mac only better. My son Christopher was served this as an appetizer at a bar. Very surprising how good.

We made individual pizzas, with the kids making their own (cheese and pepperoni of course) and hubby and I making these. I added the onion to the pan and browned them, and added a bit of salt. I also added some sesame seeds to the edge of my crust! I was very, very tasty...I think american cheese slices would make it closer to a big mac. We have pizza night in our house once a week, and I will definitely keep this is in the rotation!
heat oven 400.
spread dressing over pizza crust using less or more depending on your taste.
spread hamburger on top.
top with the cheese and bacon.
bake about 8 min until cheese is melted.
top with lettuce,pickles,tomatoe,onion, and mustard.
cut into slices and serve immediately.
***********.
I CUT THE PIZZA RIGHT AFTER IT COMES OUT OF THE OVEN AND LET EVERYBODY TOP IT THEMSELVES, WITH THEIR FAVORITE TOPPINGS.