Big Grandma's Best Peanut Butter Cookies
Swirling F.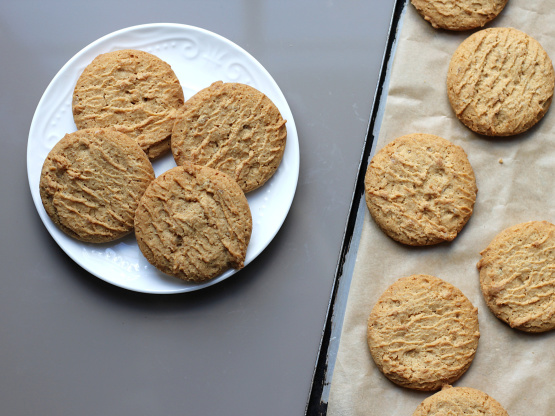 This is my husband's grandmother's recipe that is cherished by the family. They are the best cookie that melts in your mouth. They don't have the normal peanut butter fork crossing...but more of a crackled sugar type cookie... My husband comes from a huge family - and these are one of the cherished recipes!!

Great! I used butter instead of Crisco because I was too lazy to go to the store and they turned out beautifully.
Cream together the sugars, Crisco, peanut butter.
Add the eggs and vanilla.
Sift the dry ingredients together and add gradually until blended well.
Roll into tablespoon size balls.
Roll cookie dough balls into sugar.
Place on cookie sheets- do not mash with fork in normal "peanut butter cookie" fashion!
Bake at 350° oven for 11-13 minutes.