Big Daddy's Lemon Pepper Orzo
K9 Owned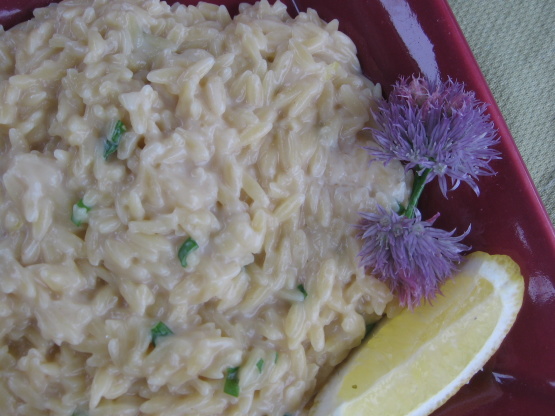 I got this from the Food Network:Big Daddy's House:Catch of the Day with Aaron McCarty. This gets nice and creamy like risotto! I tweaked it just a little.

Brilliant! This is a wonderful side dish for grilled chicken, fish and would work well with picatta. I used fat free half and half and only 1/2 the lemon and pepper called for. It was delicious!
In a medium saute pan, bring the stock to a boil.
Add the orzo and cook for 7 to 8 minutes until liquid is almost absorbed and orzo is tender. Turn off heat.
Stir in the remaining ingredients.
Season with salt and pepper to taste and serve. Enjoy!